Cangzhou Co-Win Metal Products Co, Ltd
Producten Beschrijving
De 3-delige volle doorlaat kogelkraan is gemaakt van roestvrij staal 304 en een deurkruk en vrouwelijke National Pipe Taper (NPT) schroefdraadverbinding aan beide uiteinden.
Met een hendel handvat met een vinyl mouw voor handmatige aan / uit controle.
Dit kogelkraan vol poort voor verminderde wrijving; de binnendiameter is hetzelfde als de binnendiameter van de pijp die het verbindt om maximale efficiëntie in werking te stellen.
De maximale druk is 1.000 pond per vierkante inch voor gebruik met water, olie en gas (WOG) en het werk temperatuurbereik is -20 - 180 ° C.
De klep inline voor het verbinden van twee pijpen gaan in dezelfde richting en heeft NPT aan beide uiteinden voor het maken van verbindingen strakker dan rechte draden. PTFE versterkte stoelen en afdichtingen verminderen het risico op lekkage van de klep.
Deze klep wordt gebruikt met waterleidingen, verwerkingsbedrijven en landbouwtoepassingen.
Kogelkranen kunnen worden aangeduid als volwaardige poort of verminderde poort (ook bekend als normale of standaardpoort) afhankelijk van de binnendiameter van de klep.
Een kogelkraan vol poort als het gat van de kogel is even groot als de binnendiameter van de verbindingsleiding (resulterend in lagere wrijving) en gereduceerd poort als de opening van de klep een leiding kleiner dan de buis, verkregen in minder stroom door de klep dan door de as van de pijp.
Kogelafsluiters kan een handgreep of hefboom die aansluit bij de positie van de bal van de (open of gesloten) voor handmatige bediening te hebben. Ze worden voornamelijk gebruikt in lucht-, gas-, vloeistof- en stoomtoepassingen.
Onze producten voldoen aan de ISO 9001-normen voor kwaliteitsborging. Het exporteert altijd naar Europa en Amerika.
bedrijfsinformatie
1) Dekking: 2000 squre meter
2) Medewerker nummer: 158 Emplyees
3) Jaarlijkse capaciteit: 1200Tons
4) Belangrijkste producten: Kogelkraan, terugslagventiel, vlinderklep, sanitaire eenheid, camlock en OEM onderdelen
5) Drukclassificatie: Klasse 150/300/600/900 / 1500PN16 / 25/40/63/100/160
6) Materiaal: CF8M, CF8, CF3M, CF3, WCB en ander materiaal
Contact Weg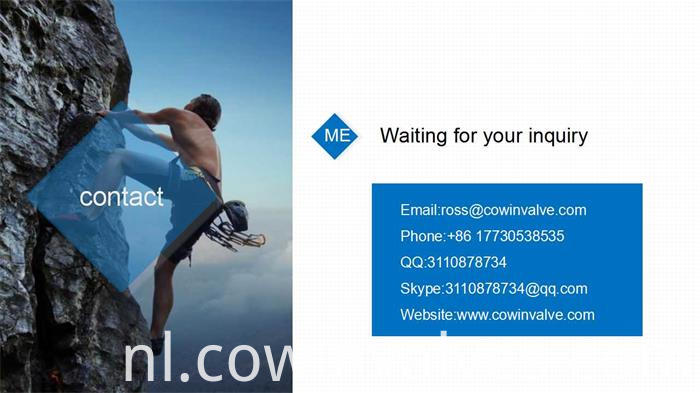 Welkom bij uw aanvraag!
Product Categorie : Brouwen woonaccessoires